Hello dear Quorans,I've been following this website for quite a while now and been reading about different subjects now and then. With all the garbage content in internet Quora actually have managed to keep it decent.
I've been wanting to share too but never knew what I wanted to write about until I saw a topic about hair transplant.
Yes, it is very popular in Turkey and believe it or not some of the clinics are actually really good in terms of professionalism and service.
Well.. that's been a very long entry so I am just gonna go ahead and talk about my own experience.
Like the majority of bald people, the cause of my baldness is genetics too. I started losing my hair at a relatively young age (15 or 16). At first it fell out little by little and didn't bother me much, I was using hair gel, wax etc. for aesthetic reasons to look cool 🙂 but by the time I got 19-20 years of age my frontal line was losing the battle.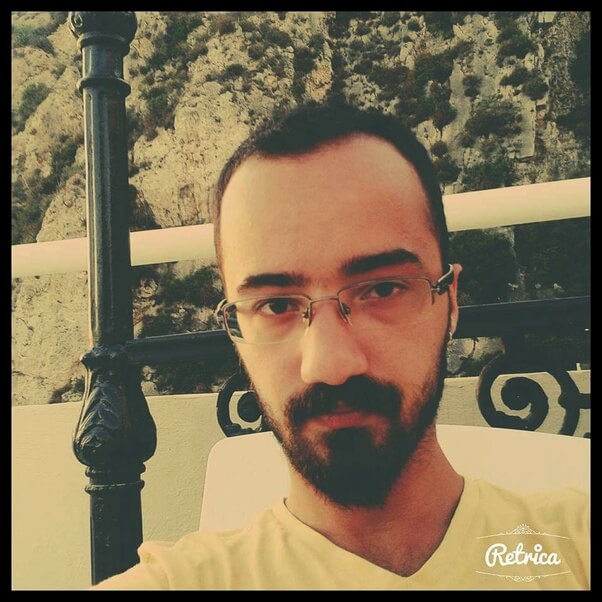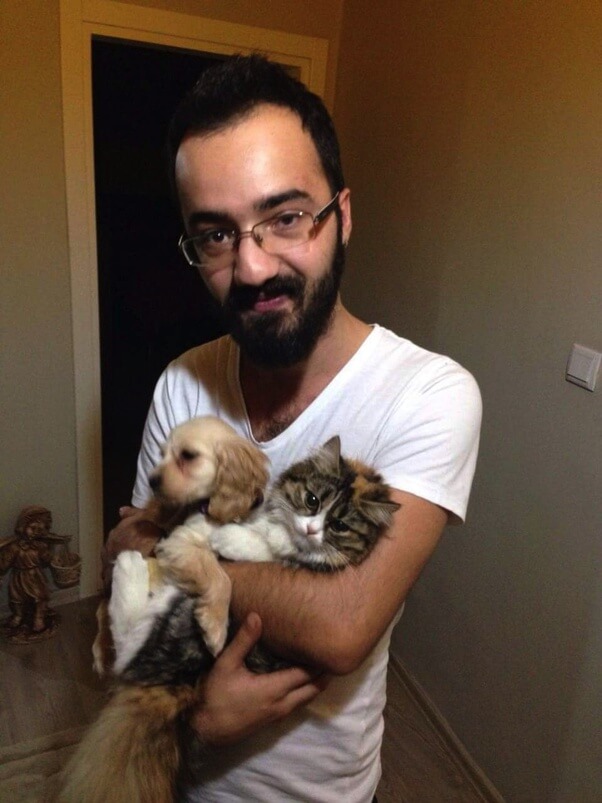 (I know, we look beautiful in this photo with my cutie pies)Baldness kept haunting me over the next years after finishing my first college around 22 years old, I tried different products like shampoos, vitamins etc. but I don't think they do much if the problem is genetic. After a while it got to a point where my frontal line was not frontal anymore xD
(This is right after I finished the military service. Damn I got fat over the years.)As the hair went thinner and thinner I started looking for different options. I even tried growing my hair (at least what is left of it.)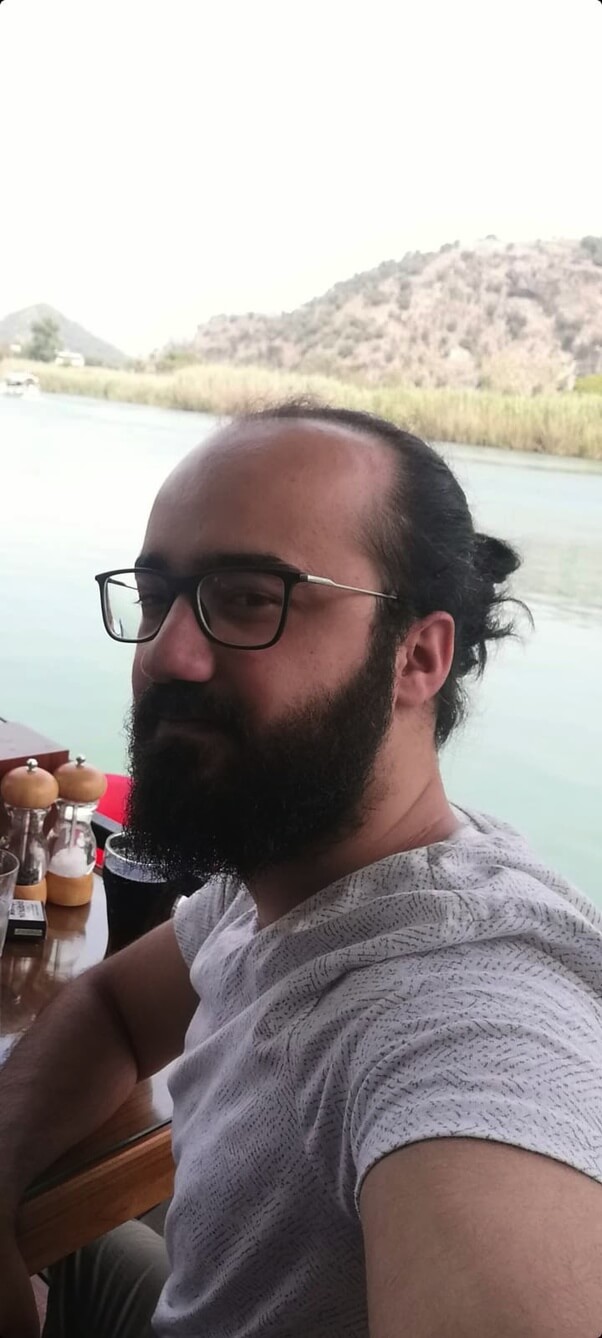 At first I really like this style because I have a thick beard and I thought it were going well with it but man that shine on my forehead was blinding.
One day my cousin said his colleague had a hair transplant at a clinic and gave me his number to talk about it. I spoke to the guy and heard about his experience, he said he was very lucky to have found that clinic.
I visited the clinic and had a consultation with the doctor, he was a plastic surgeon that explained me my problem very well and what we could do to fix it.
There are some medical things that he talked about, I am going to skip that all. Long story short he said there is nothing that medicines or vitamins can do in my situation. The way they work is that they stimulate the hairs that is sleeping under my scalp, since all the hairs under my scalp is long dead the only option is to do a hair transplant 🙂
(I couldn't risk going to jail because of my new super-power where I could blind people without intention -.-)After meeting with the doctor second time I plucked up my courage and decided on an operation date.
(This was my hair before going into operation)Before talking about the operation and results, I want to mention why I chose the clinic I chose because some of you may ask about that;Clinic is called Hairneva Hair Transplantation;1- There is a plastic surgeon called Dr. Guncel Ozturk who is in charge (more than %90 of the clinics here unfortunately don't have a medical doctor in charge, nurses or irrelevant people etc. run everything)2- They perform the operation in a very good hospital with good standards. It is called Acibadem Fulya.3- They do a unique design to each patient, which was very important for me.4- Also they were using a different technique called DHI, which got my attention, now some of the clinics use it as well but back when I did it there were only a handful and Hairneva was the one of the first who seemed to mastered this technique. They use different equipments when implanting those hairs on the scalp.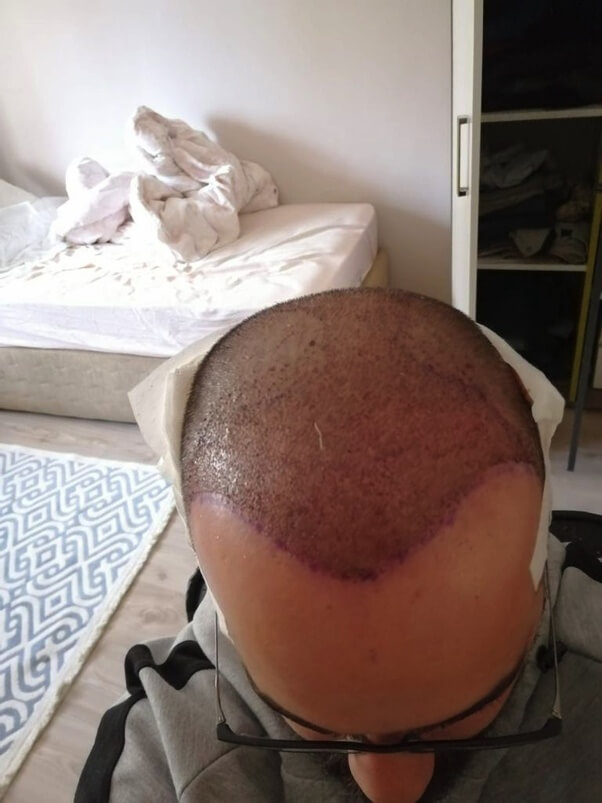 OPERATION PHASE
This is a surgical operation guys but don't worry general anesthesia is not necessary, it is performed under local anesthesia( you can play with your phone or read during the operation). It hurts a bit at first but it's nothing unbearable.
It took around 8 hours and I think they implanted around 5500 hair grafts ( this part is important because one graft does not mean one hair, one graft may include up to 5-6 hairs, but in average they say one graft includes around 2,5 hairs; so you can say they implanted around 13750 hairs)
First you lay face down for couple hours for extracting those grafts from the back of your head then you lay face up then they implant those grafts.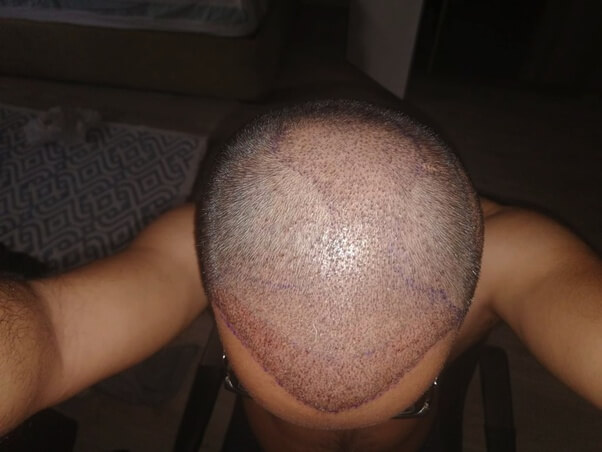 First few days I had no pain, only a balloon-like feeling in my head, doctor said it was due to edema.Also one more thing, with this so called dhi technique you don't have to shave all the head. Only shaving the donor area(back of your head) is enough but I chose to shave it all.(First day after the operation, I don't know if you guys can see it on the photo but those small dots are actually grafts)(This I believe is 1 week after the operation, those white dots get dry overtime and you make them fall out after 10 days while washing your hair)DISAPPOINTMENT AT FIRST BUT VICTORY AT LASTAfter a few weeks those implanted hairs started to grow and become visible, they were looking pretty weak but who cares I had hair on my shiny head.Then arrived the first month, where those hairs started to fall out each day. It was ok at first but then I noticed almost all the hairs implanted were falling out. I freaked out and called the clinic, they say a process called "shock loss" is happening, and is perfectly normal. I said ok and went on my life.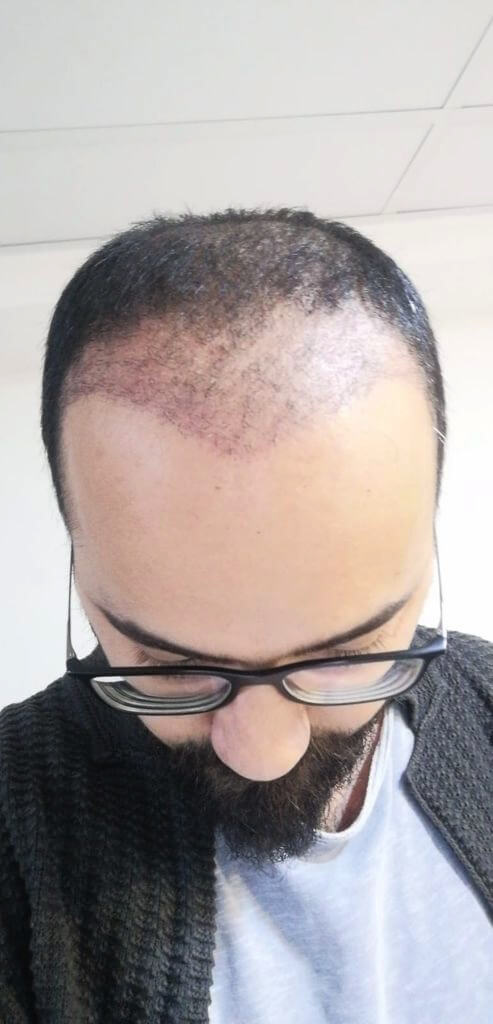 (I think this was around 40 days after the operation.)
(This is sometime later, I actually had lost my hope, I was just wishing that this red look would go away)After third month I started not to care about the hair, I told myself this was a medical operation and there were no guarantees. Clinic contacted me few times to ask about my situation, they explained the situation telling me that I needed to wait to see the result. I didn't really believe in them, just said "ok we'll see" (now when I think of it I feel a bit ashamed lol)After 5 to 6 months people around me started to notice some difference on my head, they said I started to look different. Unfortunately I could not find photo of that period, I'll add later on if I find any. Guys the issue is that the process continues but continues slowly so you yourself don't realize the difference at first.Before this topic gets any longer I present you present me;
I know there are many bald fellas out there that wants to get their hair back, hope my post here helps you to understand how this process goes.If you have any questions feel free to ask Quorans!